One of our company members will visit your school with a  pop up theatre experience to be presented in your hall.
These workshops have a great wow factor, with costumes and back drop setting. Your pupils will be gripped and inspired to find out more about the topic.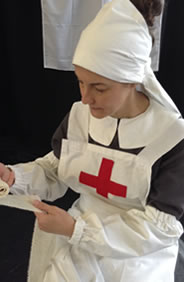 Meet Vera a WW I Nurse.
The workshop will start with the pupils meeting  Vera, an Edwardian lady, who became a nurse. She talks about the beginning of the Great War,  describes seeing men being recruited in to the army and how we shouldn't worry because it is all going to be over by Christmas.
Vera worked in France during the Great war and she talks about life as a nurse and asks children to help her with the daily task of folding sheets and bandages etc. whilst describing what she has seen. The pupils will be encouraged to take part throughout the workshop.
The sessions are packed with information.
Workshops lasts a morning or an afternoon
Suitable for a class at a time
Cost: £225 + vat per session
01270 627 990
[email protected]
The workshop is set at the beginning of World War II.  Your  pupils will participate from the moment the sessions starts.  They  meet a Lady from the minister.  Mrs Parker, who is very matter of fact, she will organize your pupils on to a train and have them      eva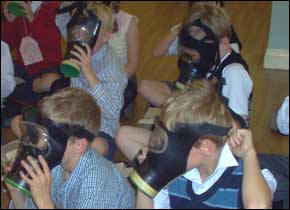 cuated away from the London bombs,  but what will you pack into your suitcase and who will you be staying with?  What does that feel like to be all those miles away from home? Find out in our fully interactive workshop.  Includes a sing a long of War time classics.
The sessions are packed with information.
Workshops lasts a morning or an afternoon
Suitable for a class at a time
Cost: £225 + vat per session

01270 627 990