"Tales from Hans Christian Andersen"
For Ks1 & Ks2

An INTERACTIVE Workshop FOR KS1 & KS2
Theatre Workshop has been touring schools for 25 years and proudly presents this captivating workshop especially written by our creative team.
T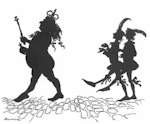 his fast paced, non- stop, wonderful adaptation of Hans Christian Andersen Stories Told by our company member, will have your pupils gripped.
This unique one hour workshop presented in your school hall will have the audience smiling and enthralled.
Tales told:  The Brave Tin Soldier, The Emperors New Clothes & The Ugly Duckling.
High Quality performance, Costumes & Scenery.
A Highly interactive Workshop for KS1 & KS2
Children participate during the Workshop
A Class at a time
Teachers Resource Notes supplied.
Cost £225 + vat
www.theatreworkshop.co.uk | [email protected]
Tel: 01270 627 990