This fully interactive workshop is ideal for remembrance week.
Suitable for Ks1 and Ks2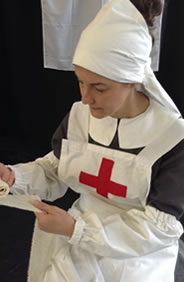 Meet Vera a WW I Nurse.
The workshop will start with the pupils meeting  Vera, an Edwardian lady, who became a nurse. She talks about the beginning of the Great War,  describes seeing men being recruited in to the army and how we shouldn't worry because it is all going to be over by Christmas.
Then the pupils will improvise an acting task about the things Vera has talked about.
Vera worked in France during the Great war and she talks about life as a nurse and asks children to help her with the daily task of folding sheets and bandages etc. whilst describing what she has seen.
The pupils will be encouraged to take part throughout the workshop.
This session is packed with information.
Help a Nurse with her duties.
Find out the reasons for the Outbreak of War
Listen to War Poems.
Workshops lasts a morning or an afternoon
Suitable for a class at a time
Cost: £195 + vat per session
Yvonne@theatreworkshop.co.uk